Performance Tours
Random Gifts of Art has gone through many iterations, including a live performance of a "philosphical comedy" version of the story. This "one+ act play" premiered in 2015 and then went on a European tour. in the fall of 2016 it appears in the Last Chance New Play Fest from Nov. 8 to 12. Performance schedule can be found here. We'll be touring Montana and Europe again in the spring of 2017 as well as performing at the Holter Museum of Art in Helena.
Random Gifts of Art on TED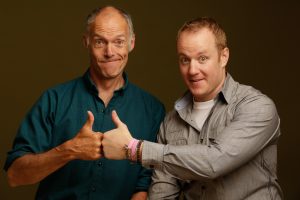 A Private Lark Goes International.
Speaker/storyteller Garret Garrels and artist Tim Holmes collaborate to create a multi-dimensional performance art project based on Random Gifts of Art, a social art movement spreading generosity and connecting people across our world. It all started as a personal means of friendly outreach as Garret traveled around the U.S. and Europe from his home in Helena, Montana. It was a simple idea: to give Tim's original art to random strangers along the way and ask nothing in return. But generosity is contagious!
The success of that simple idea has led to a website, a book, a TV show and a TEDx talk. Then the project morphed into a funny yet poignant live performance. Following a rousing premier, the show headed to Europe for a short tour in spring 2016 (see Tour Blog). In a world where there's too much fear and we all become too disconnected from each other, perhaps the medicine we need is a spark of generosity. See if you can go any further without being overtaken by a smile!
Giftees of art and readers of the book are encouraged to add their own story of getting or giving the gift. They are often simple and touching tales, some of which are FEATURED, and any of which can be searched here.   =>
Random Gifts of Art on TED
Random Gifts of Art is an art project. Or a social project. Or an attempt to live life more fully. Or maybe to scratch the itch in all of us to reach out and see who's there. Garret Garrels and Tim Holmes are spreading art, creative ideas, books, and kindnesses of all around and into the world.
Generosity pulses in all of us just under the skin. We all love people and we long to connect generously with others. It's one of the most fulfilling things we do. Slipping into that mode happens at any moment with the slightest gesture. We'd like to see that happen more often. Perhaps even embrace it as a way of life.
Curious? Wanna hear some tales? Have a story to tell? Random Gifts of Art starts there, but continues on in surprising directions. We wonder where or if it will end...

TEDxBozeman Presentation
We opened the TEDx Bozeman conference this year with a very truncated version of our Random Gifts of Art -LIVE! performance, shoehorned down to 10 minutes, a painful process which took us several weeks. But it bore some fruit and we were happy about it.
After our talk, we had to quickly unlearn all the material we'd spent so long memorizing so that we could start on a longer show for our Europe tour, which starts soon. In fact Garret is already in Sweden, laying plans to launch our tour. Fun squared!! Make sure to tell your Eurofriends just in case they are into generosity and connecting with people. And if you do convince them to come meet us– that's the really fun part!   We'll post the talk when it becomes available.