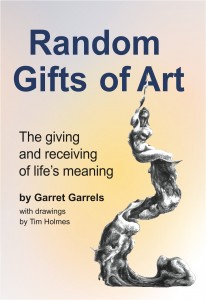 A Limited Edition Book
The book tells the Random Gifts of Art story in a surprising and engaging way. But it also serves as a living symbol. This book is not just offered as a story, it represents a connection; in fact a community of connections. As each book is passed along, the object itself grows dirty and worn but also gains a certain soul, just as a person does with accumulating experiences, adding to its meaning and value.
Each book is unique in that each has a secret number––a limited edition printing–– which identifies that particular copy. The number is subtle enough to appear as a kind of code, so as not to detract from the literal story for those who might not care or be aware of the deeper meaning. (Instructions for finding the number are in the book). Originally each book was given its own corresponding webpage, which relates the stories of those who have gifted it. SInce we've now given and sold thousands, it's easier to publish web pages for only the books with stories sent us.
Furthermore we've added another dimension, impossible with a normal book: Each successive run of 101 copies has a few subtle new elements in the drawings, making each run a unique edition. Cool, huh? So if you see strange images in the drawings you're probably imagining things…But then maybe not.
Our mission as of 2021 is to get a book on Mars! So far, so good!
Share your gift story
Part of the value of each gift (as is the case with any human being), is wrapped up in its unique story. We encourage readers to share your story of gifting or receiving a book or art from us. Send us your story by emailing us at holmes.studio@yahoo.com. With your permission, we'll share it here and at: Facebook: Random Gifts of Art
"Once upon a time, I was stroling in the park with Book #431 under my arm when…" well, we'll let you enter the story as you'd like.
Connections
Each of the RGA books is numbered with a secret number, like a limited art edition but more subtle. (Each new printing of 101 copies also features special changes unique to that set.) Thus every book's story includes its gifting and so becomes wrapped up with that of those who read it and pass it along. To find your book and follow its trail, search for your book number in the box at the top of the page.  ==>
To Order Books:
You can click the link to the right to order one from Amazon.
To do it old school, please send $20 by some means below:
• By US mail:  
Garret Garrels,  PO Box 1303,  Helena, MT   59624
• By donkey:
446 N. Hoback St., Helena, Montana,  USA  (just east of the continental divide. You'll see it from there.)