In an effort to make their bios less boring, Garret and Tim decided to write their own. But that didn't work, so they decided to write them for each other.
We're available for speaking, workshops or live performances. Or, if you prefer, our films can come to you without the excess baggage of our real selves.
For further info, please contact us.
Garret Garrels     406.491.4888
PO Box 1303,  Helena, MT 59624
Garret Garrels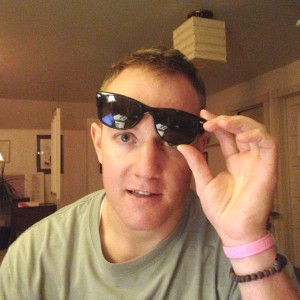 Garret  was born into a family of ferrets but due to childhood trauma was soon adopted by a lovely human family who, in honor of his noble past, named him in honor of his birth origins. Being fast as a whistle, he started boxing in his early years, some of which, close friends have noticed, are still with him. But that did not define his career choices, only the most visible and widely-known ones, like co-founding Pink Gloves Boxing, recently recognized in Entrepreneur Magazine's Top 100 Innovative Businesses.
Other than starting a training business at the tender age of 8, he has worn out like sneakers various other careers such as in horse training, standup comedy, football, futeboll, film, TV, sit-down comedy, speaking, writing, laying-on-the-floor-and-writhing comedy and most recently has made a name for himself ("Chester", believe it or not) as a gifter of Tim Holmes' art. (Wait til Tim finds out about this!!)
Seriously, Garret is one of the most personable and genuine people you will ever meet. But if you're planning on it, you'd best get in line because everyone in the world wants to meet Garret. Sharp as he is, there are no sharp edges on this man, so have no hesitation. If you see him on the street or on a ferret run, don't hesitate to introduce yourself. He'll be honored.
We don't want to distract you from the main point here, but Garret's been speaking all over the US and Europe. He finished in the top 18 of 35,000 at the World Championship of Public Speaking in 2011, and has spoken to more audiences than were in your whole graduating class (which, if you didn't come from Anaconda, is really quite impressive). You can see some samples here, but start with his TED talk. Now there's a real knockout! (Though he looks pretty good, too.) Whatever you do though, just don't ask him to sing.
-Orchestrated by Tim Holmes
Garret's TED talk: Revealing the Champion Within
Tim Holmes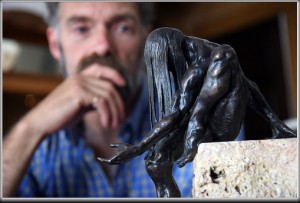 Tim was born, some time ago, inside a pine cone, and has since spent his entire life making art and expressing himself as a nut. Though the exact time and date on which the pine cone fell from the tree is still debatable, experts agree that many branches were hit during the descent and that the landing probably caused permanent damage.
If that story sounds unimaginable it's because Tim's accomplishments and contributions to society are equally hard to imagine. Why else would the Hermitage in St. Petersburg, Russia–the world's largest art museum–have chosen Tim Holmes to be the first American artist ever to give a solo exhibit and keep his sculptures on permanent display? Why else would Jimmy Carter, Vaclav Havel, Coretta Scott King, and Archbishop Desmond Tutu have Tim's art in their collections? World peacemakers are all a little nutty. The man from the pine trees of Montana has even created awards for many international projects such as the U.N. Women's Peace Prize and the Physicians for Social Responsibility.
But don't expect him to brag about these accomplishments. He'll be too busy asking about you to tell you about himself. As mentioned in the book Random Gifts of Art, "…his greatest achievement is that he's a great person. Regardless of titles, he cares about people."
If you happen to meet a person more genuine, kind, and crazy for the well-being of the world than the nutcase listed above, introduce yourself to him and watch the corners of his mouth stretch into a smile so big that it could replace the sun as he says, "I'm Tim. It's great to meet you!"
~ contrived by Garret Garrels
Tim's TED Talk: "The Erotic Crisis"
Tim's "Body Psalms" project
Share your story
To share your story of gifting or receiving a book or art, send us your story.
Garret's Life in Song Titles