The Random Recipients
These are some of the original drawings given away at the beginning of this project – when the project was only an idea. You'll find that every recipient was chosen for a specific reason. Every piece of art has a different story, and every story has a very similar meaning. There are no rules in the game of gifts. Since then we have given away hundreds of drawings all over the world.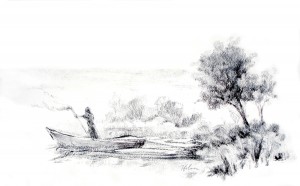 Setting Off for the Ritual
Artist's Comment: Monotype (printing a single image painted on glass) obtains a mysterious quality that I find endlessly fascinating. The texture itself is so subtly variegated that every image achieves a depth of feeling that's difficult to attain drawing directly on the paper.
Giver's Comment: In a hotel in Copenhagen, Denmark, sat a tired traveler (me). I had tried several times, in the last day, to give away this drawing. But the people I chose didn't think it was possible to give something away for free. They thought there was a 'catch.'

A man sat down next to me and said something in Danish.

I said, "I'm sorry, I don't speak Danish."

"Me neither. I'm from Norway. I just learned how to say 'How's the weather' and I wanted to try it out."

"Oh. Ha. The weather's been good. What brings you to Copenhagen?" I asked.

"I'm on a trip with my school. I go to the Bergen Academy. It's an art school."

"Art school! No way!  I have an interesting story for you." I explained the project and the people who didn't except the gifts. Then I stopped. After failing several times, I didn't want to force my stories on someone else.

His excitement pillaged the silence, "Well, who did you end up giving it to?"

"I want to give this to you."

After staring at it for several minutes, he stood up and said, "I have to give you a hug."

…In a hotel lobby, in Copenhagen, Denmark—two random strangers from different countries shared an embrace. This was the was first Random Gift of Art.
(for the whole story check out RGA, the book)
Who Has Sounded to its Depths the Human Heart?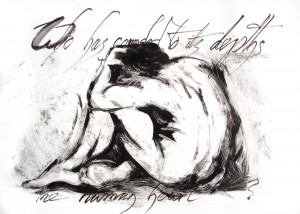 Artist's Comment: I am heartily inspired by the desperate and beautiful poetry of Baudelaire. I found myself scrawling lines of his work on my drawings, and then simply making up my own for others. This is one of those.
Giver's Comment: On a random train in Sweden, I met a random stranger. One week later, I randomly met her again and I gave her a gift. We are no longer strangers.
(for the whole story check out RGA the book)
Whispy Clouds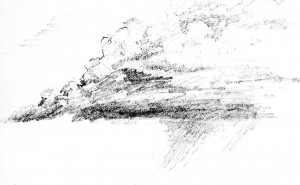 Artist's Comment: Living in Montana, my eyes are always on the sky, where almost every day a great drama is unfolding. I wonder how people can go through their day mostly unaware of the spectacular intrigue taking place above our comparatively minuscule lives.
Giver's Comment: PlaceHolder
(for the whole story check out RGA the book)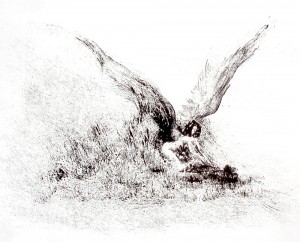 Angel Hunt
Artist's Comment: I've often drawn an image that I couldn't quite make sense of. To me, although I am the artist, I don't necessarily know what the image means any more than another. I must figure out the meaning along with the viewer. This one reminds me of the many times I've been rescued by an angel…
Giver's Comment: Sitting in the rotunda of the Seattle airport, I noticed a woman who was drawing. I continued to eat my breakfast and she approached me and said, "Would you mind watching my luggage while I use the restrooms?"

She trusted me. She trusted a random stranger. When she returned, I said, "Are you an artist?"

"I sketch a lot, but mainly for fun."

I said, "Well, I'm working on an international art project…(I explained the story)…It's also about trust and connecting."

I reached into my bag, pulled out this drawing and said, "You trusted me."

And two random strangers connected.
(for the whole story check out RGA the book)
Dream of a Tentious Woman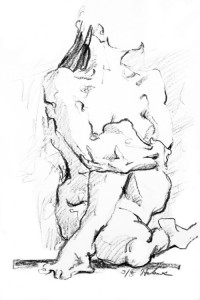 Crayon by Tim Holmes
Artist's Comment: A vision of a dynamic anatomy that speaks of a restless soul.

Giver's Comment: After tasting a remarkable rosé wine, I asked about the drawing on the bottle. The server said, "The owner's daughter drew it. The wine's named after her, you know. She's twelve and she wants to be an artist."
I met the artist. I gave her a gift. And I found my new favorite wine. —
in Medford, Oregon.
(for the whole story check out RGA the book)
Generous Portrait in Return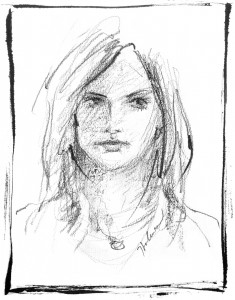 Artist's Comment: Years ago when I was 17 I had a remarkable and unique encounter with the image of a woman on a film poster I saw in Stockholm, Sweden. I was transfixed by the image and sat before it for hours on the cold sidewalk drawing this astonishing face. This is not the drawing, but it recalls that experience for me from 40 years ago. When I heard Garret was going to Sweden, I chose this drawing to send with him.
Giver's Comment: The perfect recipient. She said, "It looks just like my sister." — with Emma Köpman in Västerås, Sweden.
(for the whole story check out RGA the book)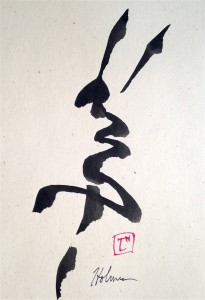 Brush Flyer
Artist's Comment:  This figurative ink fantasy is inspired by the shapes of Chinese calligraphy in which a character becomes a dancer and lunges from the page for the open air.

Giver's Comment: Hotel desk worker in Vasteras. I just got back into Internet service, but right now I am off to give away a piece of art. It's so cool, the clerk at the hotel was amazing. My room wasn't ready when I showed up and I had to go on stage in one hour. I told her my troubles and she asked the maid to clean my room first. In ten minutes, I had a room, a shower and a great presentation. Afterwards, I went to give her the art and she was gone. The new clerk said that she wasn't scheduled until Monday and I thought that's when I flew out. Turns out, I read my itinerary wrong and now I have the chance to go back.  [from journal]
A Personal Dreaming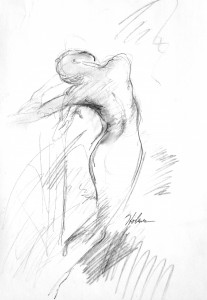 Artist's Comment: I have been attracted to this strange pose for some years for a reason I can't explain. It keeps showing up in my sketchbook and I know I will have to do a sculpture of it. I wish I knew what it trying to say to be but I don't. Something about being alive…#apersonaldreaming
Giver's Comment: I took the train from Stockholm Central Station to Solna. After getting off on the wrong stop, I quickly realized that I was lost. I mean LOST. The wheel on my luggage started screaming at me and I was forced to ask for directions.

"Excuse me, sir. Excuse me, miss. Excuse…"

No one wanted to help the strange American with a squeaky wheel. But one man did. "Where are you trying to go?" asked the only man not connected to ear buds.

 "I'm trying to get to Må Bättre. It's a health club near by."

 "Yes. I know where it is. I will show you. "

When I say 'I was lost' I mean that I was traveling in the absolute opposite direction. Daniel (I later learned the man's name) walked with me for more than a kilometer. I would have been late for my meeting had he not taken me through the forest. 

"This is a short cut." he said. 

"Thank you so much for the help. I'm sure you have better things to do than walk a stranger around."

 "No it's no problem. I just finished school and I have nothing to do right now."

 And just like magic, we were there. I thanked him as much as words could provide thanks for such kindness. It's a good thing I was carrying this picture with me because words alone would not suffice. 

Thank you, Daniel.  And thanks to anyone who is not afraid of helping a random stranger.
Shadow of Hungary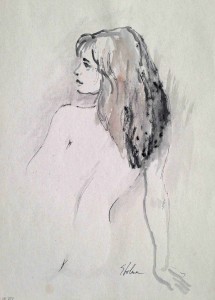 Artist's Comment: This is a sketch done on an interesting heavy paper I bought from a tiny art store in Bucharest, the only paper like this I've seen. Reminds me of how interconnected we all are. #shadowofhungary
Giver's Comment: At a conference in Norway, Random Gifts of Art was my final keynote. During the presentation, I had a woman volunteer to help demonstrate how difficult it is to connect with a stranger. She was fun, the crowd was engaged, and then I asked Helene (the volunteer) what she cared most about in the world. She said, "My friends. My family. And the time we spend together." Then near the end of the presentation, when I gave her the art, I said, "This is a gift. Every time you look at it, I want you to remember what you told me… about what you care most about in the world."
Isolated, Not Alone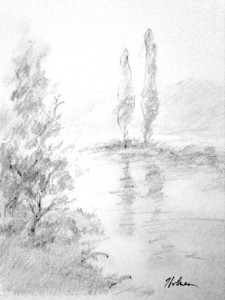 Artist's Comment: Aloneness is an attitude not apparent in the physical world. What is the difference between being alone, being isolated, and being solitary?   #isolatednotalone
Giver's Comment: At Starbucks, in the Las Vegas airport, the man in front of me had a guitar strapped to his back. "Were you playing a show in Vegas?" I asked.

He said, "No, I live here. I'm not famous enough to play on the big stages…" Then, from the depth of his eyes I saw a twinkle. "…not YET."

The 17-year-old displayed such humble confidence and I didn't hesitate to give him this gift. He may have been traveling in isolation, but with that kind of positivity he will never be alone.— at McCarran International Airport.
Looking from Beneath to the World Above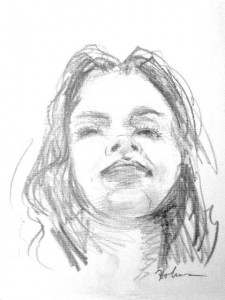 Artist's Comment: I like the concept of shifting perspectives. Sometimes I try to do it in visual terms, sometimes in conceptual ones, like here. Where is she- here or in another world?
#lookingfrombeneathtotheworldabove
Giver's Comment: Traveling home to Helena, MT, I was seated next to a family of three. Shawn, the father, sat next to me and shared how this would be his first trip ever to Montana. His brother had just moved to Helena, and as a family, they were going to hit the ski slopes. After we exited the plane, I reached into my bag and gave them this picture. "I hope you have a great first trip to Montana. And I hope it's so good that it won't be your last." 

Perhaps, this picture will resemble their faces looking up at the big Montana sky.
Under Covers
Artist's Comment: I try to title my art to hint at a direction for interpretation, not set it in stone. This one is a successful example, eluding at once to the covers of the book, the bed the reader may be headed to and the open leaves of her life.  #UnderCovers
Giver's Comment: I sat by the window in the plane. Across the aisle, two people wasted time by playing games on their phones. 

"Why is everyone so bored with life that they have to waste precious time by playing electronic games?" I thought. "LIFE is happening, and they're missing it." 

As people filtered into their seats, I wondered which of the approaching passengers would occupy the open seat to my left.

In a Texas accent, a lady said, "Excuse me, sir. Would you mind holding my coffee while I get settled in?" 

From that moment on, we talked for the entire flight. We didn't play iPhone games, we talked (yes, some people do remember how to do that). 

The retired English teacher shared her kindness, her story and her time. In return, I gave her this gift.

As a grateful tear rolled down her face, she said, "This was the best flight I've ever had." 

Thank you, Kathy. And thanks to everyone with the courage to step away from their 'comfort phones' and step into a conversation…with a random stranger.

Strangers are like undiscovered books – never judge them until you see what's under the cover.
(for the whole story check out RGA the book)
Seed of Compassion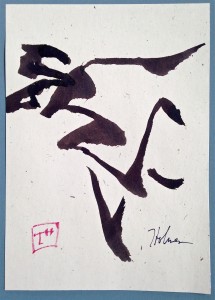 Artist's Comment: I'm fascinated with Chinese calligraphy and for years have made figures using a Chinese brush and ink to simulate moving figures as if they were written Chinese characters, telling their own magical story. This ink fantasy features a couple sketches of my beloved niece as a baby on the verso.

  #seedofcompassion
Giver's Comment: I was playing golf in Mesquite, NV (isn't that how all good stories should start?). On hole 15, we were getting ready to tee off when a man from the neighboring houses walked up next to us. Honestly, my first thought was that maybe one of my brothers wild shots had hit his house on a hole or two before. He looked at my brother's shirt and said, "I knew that was a Montana Grizzlies logo. I'm from Missoula."

We talked enough to realize that we knew a lot of the same people, but since we were in the middle of a game, we had to keep up with the play. Later on in the round, the nice man, Dennis as we now know him, had found us again. "I got to thinking," he said, "why don't you come over to my house and have a drink after you finish." 

Three hours and an undisclosed amount of drinks later, I made a new friend. Dennis was motivated by nothing more than curiosity and kindness. This piece of art, was the least I could give to a man who gives so much hope for humanity.
Angie in the Kitchen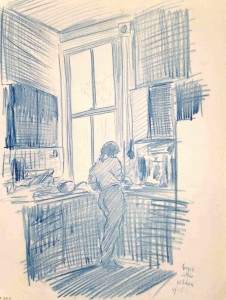 Artist's Comment: I visited an artist friend in San Francisco and while she cooked a meal her daughter and I drew at the kitchen table (thanks for the blue pencil!) I don't often do domestic scenes, but this one I very much like!   #angieinthekitchen
Giver's Comment: Seated in the hotel lobby, I was catching up on some emails when a woman came up to me and said, "Would you mind watching my stuff for a moment?"

"Absolutely," I said, "It's in safe hands."

What trust this woman had to leave her purse and computer under the watch of a complete stranger. When she returned I said, "I was watching it like a hawk. No one dared to mess with it."

Later on in the evening and after several cups of coffee, I had to use the restroom. Normally, I would pack up my bags and take everything with me. Not this time.

"Would you mind returning the favor and watching my stuff?" I asked my new friend from across the lobby.

When I returned, she joked back to me, "I was ready to take anyone that dared touch your bags." 

This simple interaction got me thinking. 'What if everyone in the world treated each other with this same unconditional trust?' Later on, the woman packed up her bags for the evening and I said, "I think that is really cool what you did. To trust a random stranger like that."

"I didn't even think about it," she said. "You looked like a good guy and I like to think that most people are inherently good."

I told her about Random Gifts of Art, and that I wanted to make her gesture a part of the journey. 

"The world needs more people like you," I said as I gave her this drawing.
She replied through the most genuine of smiles, "This picture is sooo me. I live alone and I'm always in the kitchen. This is what a photograph of me would look like." Then she read the title and said, "And my name is Agnes."
To the Stockholm musician with unquestionable hope for humanity: Thanks for reaching out. Keep connecting the world with your trust.
Everything Plummets
Monotype by Lonnie Hanzon, ink by Tim Holmes, & poetry by Krys Holmes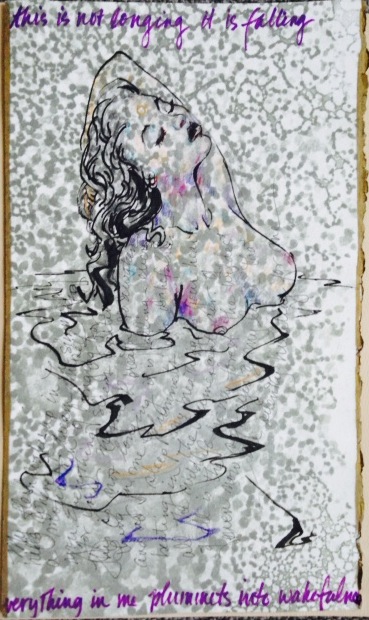 Artist's Comment: My sister Krys and I went to Denver to do a series of collaborations with our artist friend Lonnie. He created these gorgeous papers, upon which Krys wrote poetry and I drew images, creating a magic of its own nature. Here the complete title of the poem (which can hardly be seen in this image) is: "This is not longing it is falling. Everything in me plummets into wakefulness."  #EverythingPlummets
Giver's Comment: I was giving a presentation on Random Gifts of Art in Skövde, Sweden. I needed a brave volunteer, but no one raised their hand. "Really, no one wants to volunteer?" I said.

Finally, a man stands up and says, "Well, if no one else wants to do it."

After acting out a couple of improve scenes on the stage, I asked Mats, "What do you care most about in this world?"

He said, "I'm passionate about so many things, but what came to mind when you asked me was stress-free times. Those times when everything in life is going well and you can't feel any pain or stress in your body."

It's funny how it always works out. This was the picture I had planned on giving out before meeting Mats. I can think of no better person to give this picture. Random Gifts of Art is not about the gift, it's about the giving. The art is a symbol and the recipient gives that symbol a meaning. This picture represents a moment in time when a goofy speaker connected with a brave volunteer. And it will forever stand as a reminder to what Mats said, "Stress-free times. Those times when everything in life is going well and you can't feel any pain or stress in your body."

Thanks for sharing with me what matters most to you. I'm better for having met you.
Aside the Cloak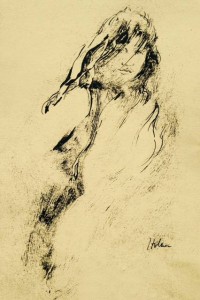 Artist's Comment: Sometimes a few marks is all it takes to make a powerful image. This monotype (painting with ink on glass, then printing the ink directly to paper) would be nearly unrecognizable were it not for the eyes alone!   #asidethecloak
Giver's Comment: I landed in Stockholm, grabbed my luggage, and jumped on the train. Twenty minutes into the ride, all of the passengers stood up and headed for the door. The train stopped. I was completely lost. Turning to the man behind me I asked, "Excuse me. I missed the announcement. Why is everyone leaving?"

"Um," adjusting to English he said, "A tree fell down over the railroad and it is not possible to continue. We take a bus from here. Follow me. I show you where to go." 

This man, his name I later found out was Daniel, saved me. Without him, I would probably still be wandering around the Swedish countryside. Two hundred passengers unloaded their luggage and limped to the bus stop—not everybody limped, but of those who did, I was one. 

The train company offered no information other than where to wait for the bus. Daniel helped carry one of my bags and we shared stories in the duration. There was plenty of time for conversation. In total, we stood on the sidewalk for 3 hours. Two buses came every hour and people pushed to the front of the line. I said, "Daniel, you don't need to wait for me. If you get a chance to make it on the bus, go for it." It felt like we were soldiers on the battlefield, "Don't wait for me, man. Save yourself!" 

I offered, but Daniel stuck by my side. "No. I will help you. The bus will take us to another train and they will have to wait for everybody, anyhow." 

As tired as I was, and as eager as I might have been to arrive at my destination, meeting my new friend made the wait worth every minute. Daniel is a father of three children: a four-year-old and two eight-month-old twins. One of the twins got an ear infection the previous night so he had hoped to return from work as soon as possible to help his wife with their three children. The bickering British man I met in the airport would not have helped a lost foreigner. Mr. Mummy, the man sitting next to me on the plane, would have buried his head in a blanket in hopes of masking the moment and making the present disappear. But Daniel was kind and mindful of what really matters in life. I told him the story of Random Gifts of Art; how meeting people is my favorite part of traveling; how I wanted him to be the next recipient. The gratitude on his face, when I gave him the gift, made all the pains of travel disappear. I love what I do.

The bus dropped us off at a different train. The new train trudged to the finish line. Several hours behind—one friend ahead—Daniel and I shook hands, hugged, and without a scratch, we walked off the edge of the razor of the road.
Furious Passage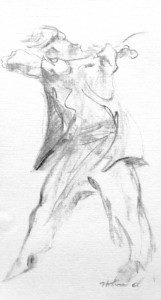 Artist's Comment: In designing a bronze I dashed off a few lighting drawings, trying to capture the furiosity of a virtuoso violinist at work.  #furiouspassage
The final bronze can be seen at: http://www.timholmesstudio.com/sculpture/struggleandhope/SOLI.html
Giver's Comment: During the last day of a convention in Västerås, Sweden, I had made at least ten trips through the hotel lobby. In the lobby, there was a woman studying and working on her computer. Every time I walked by, she would pause her work, make eye contact with me and smile–just a simple gesture of courtesy. Other than the subconscious feeling of warmth it gave me, I didn't interact with her.

When the conference ended, I had one hour to catch up on my own emails and since I'd already checked out of my hotel room, the lobby was my only option. That woman was still there. I sat across from her. 

After fifteen minutes or so, she asked me if I would watch her stuff while she ran an errand. I guarded it with my life. When she came back, I asked if she would return the favor and watch my stuff. She did. 

I returned, and it was at this time that I realized we had connected on a certain level of trust. We didn't know anything about each other, yet we gave each other our trust. 

I said, "Thanks for watching my luggage. It's rare to find someone so trusting of a random stranger. Can I tell you a quick story?"

"Yes, of course."

I told her about RGofA, about how it started, and what it's become.

"It's funny," I continued, "Two out of the twenty or so recipients I had met this exact same way. They asked me to watch their belongings. Those interactions have made me more trusting of strangers and less stressful while on the road. I really appreciate your friendliness and compassion. I've noticed you sitting here all morning and I could feel your kindness each time I walked by. As a symbol of my appreciation, I want to make you a part of this project. I want to give you this drawing."

She responded with a gaze of pure gratitude and surprise. It was apparent that she hadn't expected anything in return for her actions. Her name was Maja. And she's a symbol of hope for humanity.
A Rose Confides
Artist's Comment: I did a series of images inspired from Charles Baudelaire's poems "Feur de Mal", the Flowers of Evil. On some of the images I then wrote his lines, like, "Many a rose regretfully confides the secret of its scent to empty air."  #aroseconfides
Giver's Comment: A friend and I were on our way to the ballet in Berlin. Wanting a quick bite to eat, we stopped by a pub to grab some food. The place was packed. There were no empty seats. Then I noticed a couple sitting at a table for four.

I said, "Would you mind if we sit next to you?"

"No problem."

After talking with our new friends, I learned they were both teachers in Sweden on vacation for the weekend. They were each sipping on a curious little glass so I said, "What's that you're drinking?" 

"Schnapps," said the husband. "Would you like to try?" He offered me the glass.

I can't say whether I was more interested to try the schnapps or accept his offer. I tried it. It was good. But the fact that he just offered his glass to the lips of a complete stranger was easily the best part. 

I said, "Thank you. It's not everyday that someone offers their glass to someone they don't know." 

His wife chuckled and responded, "That's pretty common for Ulf." 

I sensed the moment to share my story. I can tell a lot about a person by their response to this project. Ulf and his wife, Christina, loved the idea of meeting new people and acknowledging that every breathing body has a beating heart. 

We only had a few minutes before the ballet started, but I would not have missed giving them this drawing. In the end, it all worked out. We made it just in time, our stomachs were filled, and I will always have a special appreciation for schnapps.
Nostalgic Indian Ponies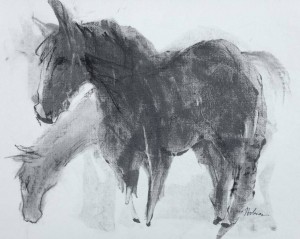 Artist's Comment: I spent months reading about the history of the American Indians, a tragic and sad story! I wonder what the world would be like today if the Europeans had not "won" the west but had to assimilate into native American culture and values. 
#nostalgicindianponies
Giver's Comment: To get from downtown Berlin to the airport, I was told to take the subway fourteen stops and then catch a bus. When I first jumped onto the subway, I started to second-guess my sense of direction. I was already behind schedule and one wrong move meant that I would miss my flight. I scanned the passengers and noticed that the three girls standing immediately by my side were all carrying suitcases—an easy opportunity to start a conversation. I said, "Are you going to the airport?"

The women gave each other a quick glance and replied, "Yes." 

"Tegel, right?"

"Yes." 

"Me, too." 

Ten stops later, we got off and walked as a clan towards the bus stop. It was a mother of about 50 years and her two daughters (20-30). Waiting for the bus, the mother said, "Where are you flying?"

"Stockholm."

"Us too." 

I had guessed their accent was Swedish, but I didn't want to make a mistake by asking. Then, I noticed her necklace: a silver Dala horse, the symbol of Dalarna, which is the region where I always stay when I go to Sweden. 

"Are you from Dalarna?" I asked pointing to her necklace.

"Yes."

"Which town?"

"Falun." she said with a surprised look. She was even more surprised when my face showed that I knew where it was. 

"I get to Falun quite often. I have a women's fitness boxing business in Falun and Borlänge called Pink Gloves Boxing."

One of her daughter's brightened up and said, "I have heard about Pink Gloves. My friend wants me to join."

They were surprised that I knew about their town. You can imagine how surprised I was when I learned that they knew about a business from my hometown in Montana. The bumps are still on my arms.

The bus stopped and we walked into the airport. The mother said, "If you are flying SAS, we need to go over here." She led the troops. I would have eventually found my way, but I guarantee that I would have wandered around for a while before finally finding the tiny little section in the corner where I needed to be. We stood in line together. Then I reached into my bag, pulled out Tim's drawing of two HORSES, and said, "I want to give you a gift."
Bather's Robe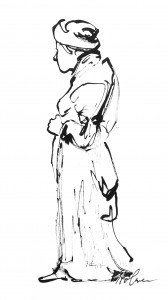 Artist's Comment: I feel the best ink drawings in history are those whipped out by Rembrandt, probably sitting on the porch after dinner with a quill and ink and a pile of paper from the butcher shop, sketching people as they passed. His combination of heavy and light strokes displays a deceptively difficult mastery of both use of the quill and the eye.   #bathersrobe
Giver's Comment: In Västerås, Sweden, I went to an outdoor restaurant with a friend. The sun was shining, the trees were budding, and the people were smiling because the weather had just turned warm enough to eat outside.

Our waitress spoke English, and we became curious of her nationality so I asked her.

"I'm from Ireland," she said.

Followers of this project will know that the very first person I chose to receive a piece of art was a waiter from Ireland. But he had vanished before I had the chance. Since then, I always wondered about the missed opportunity. 

So I thought this was a perfect time to explain RGofA and how it started. She was fascinated by the idea. And I was glad to bring her into the project. Here's to Amy, the waitress from Ireland, the brave woman who moved to Sweden and who wasn't afraid to connect with another foreigner.
Hen: Eros-Thanatos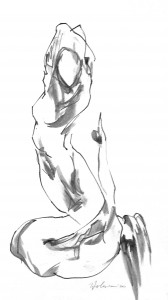 Artist's Comment: Hen is a Swedish term that I gather refers to something like this image, which melds a male and female figure into one form; a marriage of Eros, the impulse toward life, and Thanatos, the death wish. What could be more visceral? The drawing is one of many I've made on this theme, which continues to fascinate me: the influence hidden in each of us of the contrasexual figure… #Hen:Eros-Thanatos
Giver's Comment: In Helsinki, Finland, I was staying at the Scandic Park Hotel. We sat in the lounge area talking and enjoying a glass of wine. I struck up a conversation with the bar-host. He was a young man from Somalia who had moved to Helsinki to find peace, and to escape the wars in his homeland.

Afterwards, I left for a dinner engagement, but I couldn't stop thinking about that man. The courage it would take to leave your home. The amount of love he felt for the greater human population was so much stronger than the chains of nationalism and unjustified culture. 

The next evening, I was leaving the hotel when I noticed my friend was working again. He was talking with some customers. His face shined with gratitude and everyone within his radius of warmth could feel how much he cared. I felt that I must acknowledge his kindness. I wanted him to know how much I appreciated his story. Thank you, Ahmed.
Grizzly Bear in the Studio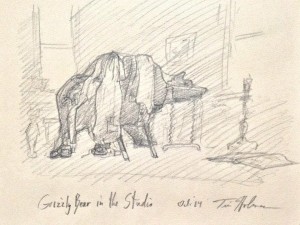 Artist's Comment: I awoke early one dawn startled to see a grizzly in the room! I sat up and stared at this horrifying shape until it finally resolved into the project I had left out when I crashed into bed the previous night: a slide projector and some odd items along with a pile of clothes on two chairs. I love how a creative brain sees so often angels in the architecture!
#GrizzlyintheStudio
Giver's Comment: In Helsinki, Finland, I went to the Hard Rock for live music and relaxation, before catching the plane to Sweden the next day. A small room with a large crowd; the main act was a guitar player from the U.S., who sat alone on stage, unplugged, and in the zone. 

The next morning, I was at the airport when–on the way to security–I noticed: a cut-off t-shirt, comfortable travel pants and the same boots as the night before. It's him! The guitar player! So I went up to him and said, "Hey Ryan. I watched you at the Hard Rock last night. Just wanted to say thanks for a great performance." There are several ways to respond when a strange man approaches you in the airport. When you're tired from working late into the night, it wouldn't be out of the ordinary to let your middle finger do the talking. But he stopped, removed his sunglasses and said, "Thanks, man. I appreciate that." Recognizing that I wasn't from Finland he followed up with, "What brings you to town?" I told him. And I mentioned that I was flying to Stockholm. "Me too," he said, "I've lived there for the last ten years. Here, I have a gift for you." He took off his wristband and handed it to me. "It's about paying a good gesture forward." Printed on the band it read, Pay it Forward – PIFexperience.org.

"That's my move," I thought to myself. I finally met someone who also gives gifts to random strangers. Out of instinct, I removed my Pink Gloves Boxing wristband and gave it to him.

"Cool. What's this one about?"

I told him. We shook hands, said a quick good-bye, and lost each other in a cattle drive at the security checkpoint.

That simple experience occupied my mind from take-off to landing. His mission is so similar to Random Gifts of Art. I needed to tell him.

I exited the plane, pulled a drawing from my bag, and waited for him to walk out from the jet-bridge. 

"I have a gift for you." I told him about RGofA and I explained the story behind this drawing. "So, Tim mistook a bunch of clothes for a grizzly bear."

"That's how the best ideas happen," he said, "You wake up, in a dream-like state, and then you need to find a pen and paper before the idea's gone. I've written a lot of my best songs from ideas I woke up to."

We talked and walked to the baggage claim, we shook hands again, and we went on to live the rest of our lives. I know, in my lifetime, I'll always remember the gift and the message given to me from this random stranger. Thank you, Ryan Roxie (Alice Cooper).
Additional Comment: The story for this drawing gift goes from cool to amazing. It began as a gift in Amsterdam from Garret to a guy who turns out to be the lead guitarist for the Alice Cooper band, Ryan Roxie. Ryan then writes to Garret a few days later that he traveled to New Zealand on tour and passed the drawing on again to someone else! Months later Ryan gives Garret a backstage pass to one of the final Alice Cooper stage performances.